You all know what I'm talking about, right? The wedding photographer is that person who, at your cousin's wedding, runs around the bride and groom with their camera trying not to miss a single important moment of the day. Doing this job requires certain qualities, and knowledge, but also a little investment for the purchase of equipment if you do not already have it. Having practiced it for a few years, I can tell you that it is a really nice activity, even if sometimes quite exhausting.
What is a wedding photographer?
Well, we all know what it is, but for the 0.1% who don't know, the wedding photographer is the person in charge of taking pictures during the whole wedding day, focusing on the key moments such as (depending on the country) the religious ceremony, the administrative ceremony, the banquet, the party, etc.
It is a job that requires organization because the events often follow one another, and it is better not to miss any of them. For this, the photographer usually receives a schedule where each key step of the day is listed.
But working as a wedding photographer is not limited to just this one day of work. It takes place in 3 phases: the preliminary interview with the bride and groom, the day of the wedding, and then the retouching and delivery of the photos, but we will come back to this in more detail later.
How to become a wedding photographer?
Having practiced this profession for some time, I can tell you that it is not improvised. First of all, it requires skills. If you don't know how to handle a camera and don't know any of the basic techniques of photography, you will have to start there. I have written an article that will help you acquire these basics quickly, so don't hesitate to check it out.
Next, you need quality equipment. This doesn't necessarily mean that you have to equip yourself with very expensive gear, but let me tell you right away, a simple smartphone won't be enough (unless the "photo" budget of the future married couple is really low). You'll need a camera with interchangeable lenses, as well as some accessories that I'll talk about later in the "Equipment needed" section.
So, of course, some professional photographers "shoot" a whole wedding day with a single camera and a 35 or 50mm fixed lens mounted on it. This is exceptional, and you will have to show the quality of your work to the bride and groom before they will accept it.
Once you have the technical knowledge and the equipment, the best way to start is to work, even for free, with another photographer who knows the business. This is the fastest and most efficient way to learn the ropes. And if you don't know any, go it alone, without asking for payment, or very little, in order to gain experience quickly. Offer your services to friends, family, and colleagues, while specifying that you are a beginner and that you will not be the official photographer, but rather a "helper ". That's what one of my nephews did, and he's doing very well today.
Only when you have accumulated enough experience and feel ready, but also when you have managed to collect enough beautiful pictures to feed your portfolio, you can then offer your services for a fee.
How to find customers?
In the beginning, it might be a bit difficult. Nobody knows you, you have no clients… the first thing to do is to create your portfolio. All the potential clients you'll be canvassing will be directed to it, so it's crucial to take care of it. You can read this article to know how to create it.
Along with that, also create a Facebook page and an Instagram account, both of which you will feed with quality content. I would even advise you to do this as soon as you are able to take beautiful pictures. And then post regularly because it's the best way to quickly increase the number of subscribers/followers.
Also, offer your services via online classifieds and on any other local sites that will allow you to do so. You can also run small ad campaigns on Facebook/Instagram and Google. This is a quick and inexpensive way to find new clients.
There are also "wedding fairs" and similar events in many countries. Ask about them, but if they are happening in your country, don't hesitate to attend. There is often a fee to access them, but it is an investment that can be worthwhile.
Finally, don't hesitate to hand out your business cards to the guests of every wedding you go to, even if you are only there as a guest. And above all, be nice to everyone. This kind of event is ideal for finding new clients.
And if you are good at what you do, you will see that, after a while, you won't even have to look for your new clients because they will be the ones who will be jostling for you (well, I wish you that). Don't underestimate the incredible power of word of mouth!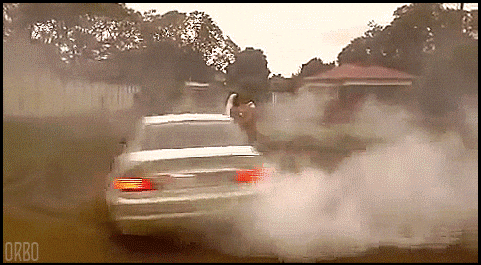 I have to warn you, you will sometimes see strange things during weddings 😁. Source: Giphy
How much does a wedding photographer earn?
It depends on several criteria, such as the level of your reputation and the quality of your work, the place where the different stages of the wedding will take place, the number of hours to be provided, the number of guests, the possible particular requests of the bride and groom, etc. In the US, the price of a wedding photographer generally starts at 300 or 400$ when you start, then can go from 600 to 1200$, depending on the criteria I just mentioned.
Some photographers charge much more, up to tens of thousands of dollars, but they are usually recognized artists whose reputation has been established for a long time. It also happens that this amount includes one or more photo sessions in studio or outside, like at the sea, in the mountains, and sometimes even on exotic and distant islands.
The best is to propose a fairly attractive starting price then propose options that will increase the final price. For example, you can start with a 6-hour service then offer additional hours, a book, a website where guests can download the photos they want, staging with accessories, enlargements, black & white, etc. See what is done elsewhere and get inspired.
How does a wedding go for a photographer?
As I told you in the introduction, there are 3 main steps when you accept a new wedding service. Let's go through these in detail:
1

The interview with the future married couple

Meeting the bride and groom will allow you to get to know them and to establish a certain trust, maybe even mutual complicity. It will also be an opportunity for them to discuss the different stages of this upcoming day, any requirements they may have, and to ask you questions.

It is at this moment that you will also have to ask all your questions because on the day of the wedding, they will be too busy, and it will be important not to bother them too much. Ask exactly what kind of pictures the client wants (often it is the bride who has requirements). And if you don't feel you can handle requests that are too specific or complicated for you, say so without hesitation!

Also ask them to send you a document with a chronological list of all the steps of the day, with estimated times and durations for each of them, as well as the various recommendations or requests they would like to make.
2

The wedding day

Make sure you have prepared all the material at least 2 days in advance. If you notice a problem the day before when all the shops are closed, you will be in trouble. Check your cameras, lenses, and flash, charge all your batteries, unload your memory cards, etc.

Go to bed early the night before the wedding. The day could be very long (I remember working 16-hour days!), and above all, avoid alcohol during the whole day (you can allow yourself one or more drinks at the end of the evening, if you don't drive, of course). It's all about staying focused, so you don't miss anything.

Even if you remember the planning perfectly, consult it frequently (print it on paper or take a picture of it with your smartphone). Anticipate each step and try to be the first one there. It is sometimes quite sportive, you will see it, but it is important to be able to take beautiful pictures.

Take pictures of the bride and groom, as much as possible because, after all, it's their day. But don't forget to take pictures of the rings, the bride's bouquet, and especially of her hair (she spent hours getting ready and would be disappointed not to have a souvenir). And take also one or more pictures of each guest, of the groups that form, of each table during the wedding banquet, of the general atmosphere, of the children playing, of the grandparents who observe all this with a tender eye, of the different places, etc.

Make sure that there is someone (close to the groom or the bride) who manages the communication with the guests. For the group photo or the family by family photo, for example, it is this person who will be in charge of getting everyone together or getting the right people to the right place. Without her, you will see, it can sometimes quickly become a mess.

Finally, don't hesitate to celebrate with the guests at the end of the evening (and hand out your business cards on the way). Make sure they have a good memory of you, and then go to bed because the job is not over.
3

Retouching and delivery of the photos

Here you are now with 12,537 photos to sort out and edit. You'll see it's not the most pleasant moment. So, start by looking at them quickly one after the other and deleting the ones that are duplicates or failures and that you don't want to keep. In my case, it is often more than two-thirds that fly to the trash. Be careful, don't delete them permanently, but rather put them in a separate folder in case you want to recover one or the other later (I even had a bride ask me for them once).

For retouching, I advise you to use software such as Adobe Lightroom. You'll see that it will save you a lot of time. The strength of Lightroom is that firstly, all the sliders you need for a quick and efficient retouch are displayed one below the other, but also that you can go from one photo to another without having to save the changes made for each one (the saving is done automatically). And above all, all the retouching is done in a non-destructive way! This means that, whatever modifications you make, the source file remains intact. And then, for more advanced or specific retouching, Adobe Photoshop will do the rest.

Don't worry. You won't have to hand in all the photos the day after the wedding. The handing over of these photos is usually discussed during the first meeting you will have with them, but a week or even a month after the wedding is perfectly acceptable.
What is the necessary equipment for a wedding photographer?
As I said above, you don't necessarily need to buy professional or ultra-high-end equipment. After all, it is possible to take very good quality pictures with an entry-level camera. So, see what you can afford, but try to look at least a little professional. Coming to the wedding with a simple compact camera with fixed optics may not be well received unless you have talked to the bride and groom about it first.
Let's now detail the equipment you will need for this long day. Be careful because I'm going to use some technical terms. If you don't know anything yet in this field, I strongly advise you to read my article about the basics of photography.
Note also that this list is a summary of what I used, or still use myself, and also of what I observed in other photographers, but you are free, of course, to choose the equipment you prefer. This list is mainly for beginners who don't know what to buy.
Some photographers do everything with a Hasselblad or an old Leica. What really counts is the mastery of the art and the talent after all.
1

The camera bodies

If you are just beginning, I advise you to start with a "crop sensor" camera rather than a "full-frame". As the depth of field is a bit more difficult to manage with a full-frame, the risk of getting blurry pictures is higher when you are learning. I remember that I was a bit unsettled when I switched from one to the other.

Then, even if the fixed focal length cameras are lighter and easier to handle, I advise you to choose a camera with interchangeable lenses. Because, even if the quality of your camera will have a direct impact on the quality of your images, the quality of the lens will have an even greater impact. If some lenses cost the price of one, or even several months' salary, there is a reason for this (number of elements, manufacturing quality, etc.).

Choose the camera carefully: A good body should be both robust and of good quality, fit perfectly in your hands (there are different sizes so don't hesitate to test it in a store before buying it), and have good ergonomics.

And above all, make sure it is very responsive. Events at a wedding can happen very quickly, and if your camera takes several seconds to focus before it triggers, you'll miss a lot of things.

The purchase of two cameras is also strongly recommended. First, for comfort, since you can mount two different lenses on it and switch from one to the other quite quickly, but also in case one of the two fails during the work day. I remind you that you are a professional and that the bride and groom have paid you to have pictures of this unique moment in their lives. 😬
Some examples of cameras
I propose here a selection of cameras that are recommended in some specialized magazines that I have consulted for you. They are mainly "mirrorless", much more compact and lighter, but even if SLRs with mirrors seem to be condemned to disappear progressively, they are still excellent cameras.
Note that the cameras are often offered as a kit, including the body + one or more lenses, at a more interesting price.
2

The lenses

For me, the basic kit is quite simple:
A compact zoom lens: such as a 24-70mm f/2.8 (full-frame) or 18-55mm (crop). This is the one you will use most of the time since it offers a lot of flexibility.
A wide angle lens: a 16mm (full-frame) or 11mm (crop) lens, or even smaller, will allow you to photograph groups of people in tight spaces or to bring a unique spatial effect to your images.
A telephoto lens: a 200 or 300mm (full-frame) or 100/180mm (crop) for situations where you can't get close enough to the subject or for portraits.
One or more fixed focal lengths (prime lens): A little more technical to use, but the quality of the pictures (sharpness and depth of field) is generally much better.
3

A flash

Even if its use is sometimes difficult, it will be of great help in certain situations where the light is insufficient. Choose a good quality "cobra" flash, and if your budget allows it, even take two in case the first one breaks down.
4

A tripod

You will only need it in certain situations, and maybe you won't even use it, but it's better to have it with you and not need it than the contrary. Personally, I rarely use it at a wedding, but others use it often. Again, get a good quality one that is sturdy and not too light to ensure a minimum of stability.
5

Batteries and memory cards

Remember to take a sufficient number of batteries (rechargeable or not) for your flashes, and batteries for your cameras. This seems obvious, but I've seen photographers who were not prepared enough (don't look at me like that 😅).

Concerning memory cards, choose recognized brands with optimal capacities/performances. Especially avoid cheap brands that may fail at the worst moment. Also, make sure that the recording speed is high enough (especially if you also plan to do 4K video).
6

A good, sturdy, handy bag

Chances are you'll be moving around a lot from place to place throughout the day, so choose a bag that's sturdy and can fit all of your gear into a minimum of space. You should be able to find this quite easily from some of the specialist brands. It's usually more expensive, but it's a very good investment (I bought my LowePro bag over 12 years ago now, and it's still in great condition).
7

Other accessories

Some photographers always take with them softboxes, reflectors, a ladder, various ambience accessories, like the classic picture frame, a drone, etc… but nothing is in my opinion more essential than what I just mentioned in the first 6 points. The rest is up to you (see this with the bride and groom).
Try not to be too heavy so as to be able to remain mobile
Buying second-hand equipment?
When it comes to buying good quality photo equipment, you can quickly reach quite high prices. If you don't have the budget to start with new equipment, you may decide to buy all or part of your equipment second-hand. This is not a bad idea. There are a lot of sites, such as Facebook Marketplace, eBay, or even Amazon, that offer the possibility to buy your equipment for a small price.
However, avoid buying equipment that is too old or in bad condition, especially if the price seems very affordable, and read the entire product description carefully. You need to find equipment that is not too expensive but above all functional. Personally, I started by buying a new mid-range camera and some secondhand lenses, and never had any problem. And test everything secondhand you find interesting before buying it!
Conclusion
I hope I didn't forget anything but don't hesitate to tell me in the comments if I did. I didn't talk about video because I admit that it's out of my field of expertise. I'll probably add a section dedicated to this topic later when I'll be able to bring relevant information on the subject (I have a buddy who is a wedding videographer so maybe soon).
I didn't touch on, or barely touched on, the type of photos you could take. Instead, I've focused on the practical aspects because the rest is largely up to you, your talent, your style, etc. like any other art. If you're not sure what to photograph on your wedding day, the best advice I can give you is to go to Google Images, using keywords such as "artistic wedding photos" or other similar variations. That's how I did it and how many photographers who are just starting out do it.
Whatever you do, never lose sight of the fact that the assignment the bride and groom are giving you is really important to them. They will get married only once (well, we hope they do), and it's about not disappointing them. It is, therefore, essential that you know how to take beautiful pictures but also to have reliable and good quality equipment.
And finally, know that there will be photos that you will miss: Some will be blurred, badly framed, will have a bad exposure… and will, therefore, be unrecoverable. It is even likely that you will miss some key moments (due to a bad organization, bad timing, etc…). This is annoying but rarely dramatic. The main thing is to stay focused and organized throughout the day but also to take some time off to breathe a little occasionally.
Oh, and think about snacks because you can't produce anything good on an empty stomach. I, for example, have always asked to be seated at the guest table. It keeps me in the heart of the action but also allows me to enjoy a good, friendly meal.
EcoTips
Environmental and climate change issues are more than ever at the heart of the concerns of this 21st century, which is why I am proposing a few ideas that will enable you to limit the negative impact that the implementation of this idea could have.
These solutions that I suggest are sometimes largely insufficient to compensate for these negative impacts, such as carbon offsetting. Unfortunately, there is not always an ideal and 100% efficient solution, far from it. And if you have others, please do not hesitate to share them in the comments below.
You will probably need a vehicle to follow the bridal suite throughout the day. So, instead of buying a vehicle, why not rent one? Or, if you really need to buy one, try to find a fuel-efficient or electrically powered vehicle, if financially possible. Perhaps you could even use a scooter, which is easier to park in the city?
Pros
A great day out with fun people celebrating.
A part-time job with full pay since you will only work 2 or 3 days a week and still get paid well.
Cons
A long and tiring day.
A lot of responsibility is placed on you.
The initial investment can be quite expensive.
You will find work mostly in the summer (unless you live in the tropics).
Info
Location: Anywhere, some photographers even accept weddings abroad.
Investment: Quite high because you have to buy a lot of equipment at the beginning.
Earnings perspective: The equivalent of a good monthly salary, especially in spring and summer.
Required: Discretion, stamina, and availability. Knowledge of the basics of photography.
Risk level: Depends on a lot of factors. The health crisis of 2020 was for example catastrophic for photographers (and for many others too…). Variable, therefore.
Implementation time: The learning curve can be variable depending on the case. But once you get the hang of it and have the equipment, it can be quick.
Material needed: In addition to all the photo equipment already mentioned above, you also need a good computer to be able to edit the photos.