If you have the soul of an artist, like to make people laugh or know a few magic tricks, here is an idea that could be made for you. Street performing is one of the oldest jobs in the world, but it is still very successful.
We can find all kinds of them such as:
Jugglers – acrobats
Drawers & caricaturists
Living statues
Magicians
Dancers
Musicians
Singers
Clowns
etc.
If you have one of these talents, or any other that can be performed on the street, you could easily make enough money to live on, just with your few daily representations. What will make the difference is, of course, the place where you perform but especially the quality of your performances. The more people are emotionally touched by your art, the more successful you will be.
Photo by Roman Kraft on Unsplash
Whatever you do, remember that talent and originality always pay off. So make sure you put on a show that passers-by won't soon forget. And if you don't have any talent but you like this idea, you can always disguise yourself (Charlie Chaplin is a classic) and walk the streets clowning around. Even if you feel awkward at first, you'll eventually find a style that appeals and motivates onlookers to find a few coins in their pockets.
For nomadic souls, it can be a great way to travel the world and meet exciting people (many already do). And then, if the weather is not too good for your performances, you can always practice your art in the subway. Be aware, however, that this activity (street or subway) is regulated by law in many countries. First, find out if you need a permit or not.
Little Extra
UA way to earn more money would be to offer audio CDs of your music or songs, or DVDs containing videos of your best artistic performances. You could also sell other stuff like small musical instruments or any other goodies related to your art. It's just an idea, but it's worth exploring.
If you want to know more, I invite you to visit the excellent website busk.co which gathers the largest community of "Street performers" in the world. You will find a lot of useful information. Otherwise, there are other dedicated platforms that you can easily find via a simple Google search.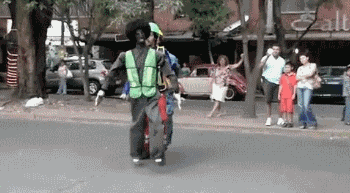 Oh, and think about your presence on social networks. This will allow you to keep in touch with the people you've met, to promote your goodies, but also to indicate the places of your next performances.
Pros
The freedom to practice your art anywhere
The human contact
The possibility to travel
Cons
Income can be random
Dependence on the weather conditions
EcoTips
Environmental and climate change issues are more than ever at the heart of the concerns of this 21st century, which is why I am proposing a few ideas that will enable you to limit the negative impact that the implementation of this idea could have.
These solutions that I suggest are sometimes largely insufficient to compensate for these negative impacts, such as carbon offsetting. Unfortunately, there is not always an ideal and 100% efficient solution, far from it. And if you have others, please do not hesitate to share them in the comments below.
As far as greenhouse gas emissions are concerned, we are in the green here, so no particular advice. If you travel, just try to take the train instead of the plane or, if it's not possible, compensate your carbon emissions carbonfund.org, purprojet.com ou encore goodplanet.org.
Info
Location: The crowded places are of course the best ones.
Investment: It depends greatly on the type of performance practiced but generally quite low.
Earnings perspective: Variable but at least a complementary income if you have a minimum of talent.
Required: Having talent and originality is a real advantage.
Risk level: No big investment so no risk. If it doesn't work out, you can always move and find a better place.
Implementation time: Very fast. You can start tomorrow.
Material needed: Depends on the art you practice.