Selling ice cream in an exotic country is a good idea for those who want to move to a sunny place. Some have already done it successfully…
As a result of the coronavirus pandemic of 2020, the number of tourists traveling around the world is declining dramatically. The situation is even very critical in some countries whose economies depend mainly on tourism. You will therefore have to choose your destination with great care and find out if the place is favorable to the development of this idea or not. At worst, wait a little while until the situation stabilizes.
The idea may seem banal at first, perhaps even foolish for some, but by thinking about it we realize that in fact, well no! I remember reading an article in the French press a few years ago when Bernard, who had settled in Indonesia, explained how he managed to make up to $20,000/month during the high tourist season.
Yes, but how much does it cost?
The initial investment is mainly in the purchase of two or three ice-cream makers and a freezer, as well as in the rental (or construction) of a strategically located commercial space (a hut on the beach, kiosk near a resort or tourist area, commercial ground floor with tasting room…).
On the other hand, the price of the necessary raw materials (fruits, sugar, milk…) is rather low if bought at the local market or better, directly at a local producer. In addition, employing staff on site costs almost nothing ($100/month in his case).
Another option would be to buy a second-hand truck and set it up yourself. This solution is probably more expensive, but will give you the big advantage of being mobile and being able to move around where people are.
Truck set up to sell ice cream and beverages. Image : source
The key to success
Some nice pictures, offering exclusive flavors, even unknown flavors (make sure they are tasty and edible though), an original presentation style, and you've got a business that can earn enough to live comfortably in a little slice of heaven.
The important thing here is to find the strategic place: fairly busy with tourists, but not too close to other ice cream vendors.
Near you?
Of course, everything I say here depends on where on earth you plan to start this idea. If you do not live in an exotic place where raw materials and staff are cheap, know that it can work equally well in Times Square, Shibuya, or Piccadilly Circus. Of course, the cost of the investment will no longer be the same (customers and income will also vary). It's up to you to study the feasibility of the project depending on where you want to develop it.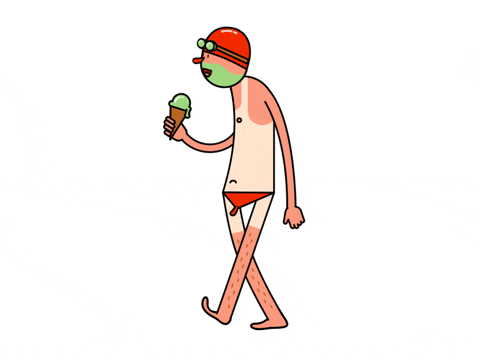 Tony Babel on Giphy
Pros
Relatively low investment and risk (unless opening in the North Pole).
Allow to live in heavenly places (if it is not already the case)
You can eat free ice cream all day long!
Cons
Beware of food poisoning. Always use clean water and healthy fruits.
Inconsistent income (it works better during the summer or tourist season)
EcoTips
Environmental and climate change issues are more than ever at the heart of the concerns of this 21st century, which is why I am proposing a few ideas that will enable you to limit the negative impact that the implementation of this idea could have.
These solutions that I suggest are sometimes largely insufficient to compensate for these negative impacts, such as carbon offsetting. Unfortunately, there is not always an ideal and 100% efficient solution, far from it. And if you have others, please do not hesitate to share them in the comments below.
Find freezers with the lowest possible energy consumption and opt for green energy (wind power, solar panels…) if possible.
Buy organic fruit and other raw materials to limit the damage caused by herbicides and pesticides that poison nature. You can even turn this to your advantage by showing your concern for the environment. This would also justify the fact that they may be a little more expensive than elsewhere.
Unless you already live there or are a great sportsman, it will be difficult for you to get to Indonesia (or any faraway paradise) by bike. For your air travel, you could offset your carbon emissions by making a donation on a platform such as carbonfund.org, purprojet.com or goodplanet.org who, for example, replant trees in deforested areas or assist populations concerned about reducing their negative impact on their environment.
Labor can sometimes be very cheap in some tropical countries, but avoid exploiting your employees. Pay them fairly and equitably and they will be more motivated to ensure the success of the business.
Info
Location: Tourist places where it is hot and crowded are to be privileged.
Investment: It will depend on the location but it is relatively low.
Earnings perspective: Quite high (up to 20.000€/month for Bernard) if your products are appreciated and you are well located.
Required: Having a business sense, being inventive (to create new perfumes, among other things), being open to constructive criticism from customers and being attentive to hygiene.
Risk level: It is average because it is difficult to predict if it will work or not.
Implementation time: Very fast, opening possible in a few days in the very best of cases.